Parking At The El Paso Club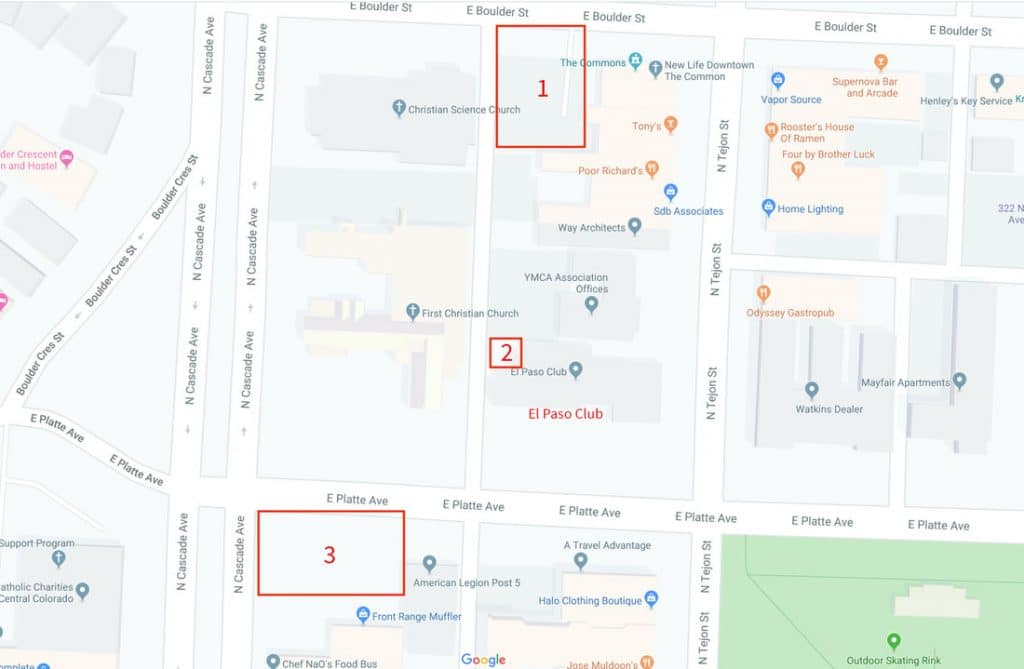 Click map above to enlarge.
You MUST have a guest pass displayed on your front dashboard to park at the EPC and Legion lots. If you do not have a guest pass, please pick one up in the lobby of The El Paso Club.
Do NOT park at the YMCA or First Christian Church parking lots. Your car will be towed.
Reference the map below.
(1) EPC BOULDER LOT [Gated – Guest Pass Required]
The gate will be in the up position during your arrival time.
When exiting, the gate will automatically open as you approach the gate.
(2) EPC CLUBHOUSE SPACES [Guest Pass Required]
There are 6 spaces available on the alley at the Club delivery entrance.
Two spaces are handicap only.
Spaces are available on a first come basis.
3) AMERICAN LEGION LOT [Guest Pass Required]
Located on the southeast corner of the intersection at Platte and Cascade Avenues.
Parking is permitted Monday – Friday from 7:00 AM to 5:00 PM.
CITY COVERED PARKING GARAGE
The garage entrance is at the intersection of Cascade and Bijou Avenues [Green Sign with a "P"].
There is a pedestrian exit on the east side of the garage.Turn left and the Club will be directly across the street [Platte Avenue].
STREET PARKING
There is ample metered street parking near the El Paso Club in the morning.
Payment required by coins or credit card after 7:00 AM.
Cost is $1.25 per hour.